Inquiry Factory Price Now
B2B Agents and Buyers Are Welcome
KEAN manufacturer has established a special service group for VIP customers. VIP customers enjoy VIP services and have one-to-one team services. Team members include product designers, product engineers, packaging designers, salesmen, merchandisers, etc. If you are interested, just send us an inquiry above, we will try our best to help you.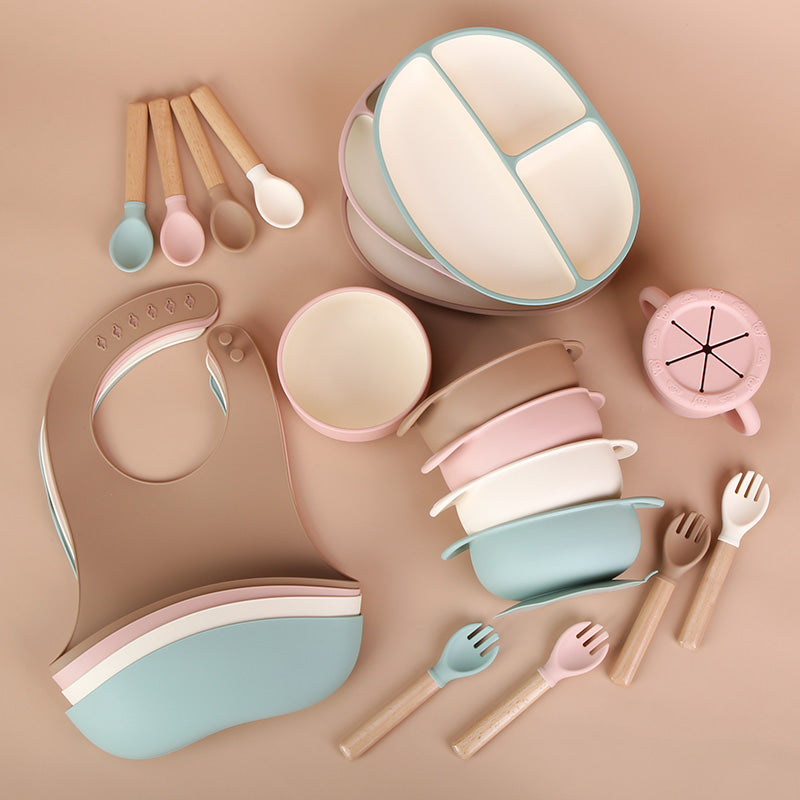 KEAN manufacturer has been in the field of silicone feeding set manufacturing for 11 years. It has five 2000m³ silicone weaning set production bases and a design and engineering team of 15 people. Both KEAN factory and weaning sets have passed BSCI, Patent, BPA Free, LFGB, FDA , Sedex and ISO9001 approved. KEAN manufacturer provides OEM and ODM services for silicone baby brands, distributors, wholesalers, retail chains, gift shops and product development companies around the world, supporting customizing the color, size, design, packaging and brand logo of the suction weaning set, etc.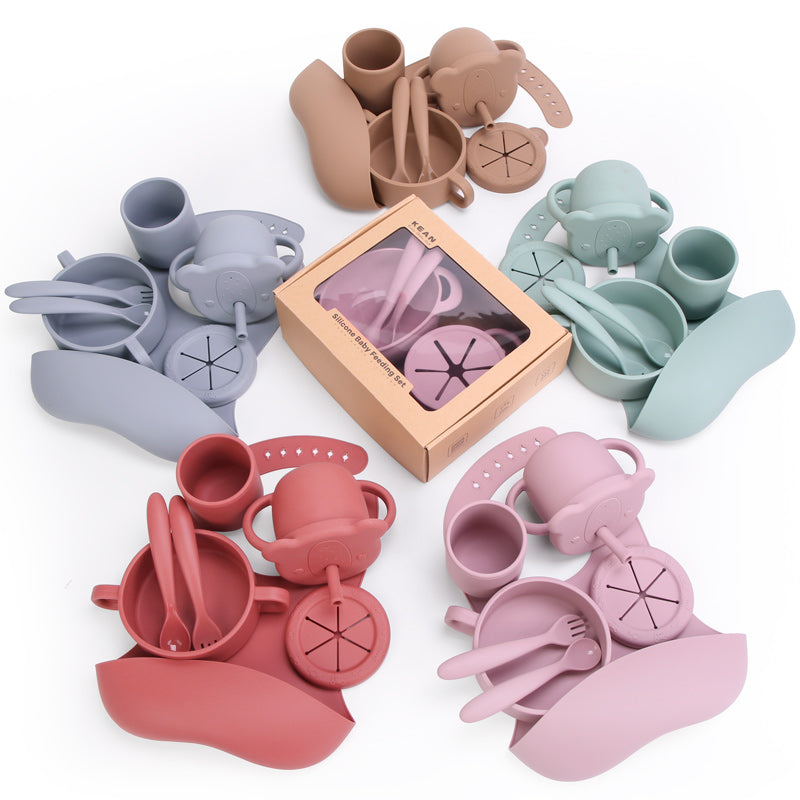 As the baby's first food set, the baby silicone dinnerware set usually includes silicone bib, silicone baby suction bowl, silicone plate, silicone spoon and fork. A set of silicone dinner set contains almost all the feeding utensils that the baby needs for meals. Whether it is silicone bowl set, silicone bib set, silicone bowl and spoon set or silicone plate set, you can freely match feeding utensils to form a set or weaning gift set. The weaning gift set comes in a box, making it a perfect gift for birthdays, baby showers, baby milestone celebrations, or other special occasions, and the silicone suction weaning set is also available in custom gift box packaging.
FAQ
Silicone tableware set specially designed for babies

The silicone suction weaning set is soft without sharp edges, strong and flexible, specially designed to help babies eat. The silicone spoons and forks in the silicone meal set are very easy to hold. The silicone divider suction plate has divided sections to keep food separate. The suction feeding set can firmly fix the baby silicone plate and the baby silicone bowl on the high chair, and the weaning suction set has been widely welcomed by the market in recent years.
Is Baby silicone feeding set safe?

The baby silicone feeding set is made of 100% food-grade silicone, without BPA, completely safe and reliable, that is safe for babies to eat and chew on. Certificates such as FDA and LFGB can be provided.
Is the silicone first feeding set easy to clean?

The silicone feeding set is easy to clean, the smooth surface will not absorb oil, and it can be cleaned with a little detergent. Magically stays dry in seconds. In addition, the silicone weaning set can also be used in dishwashers.
Is the suction weaning set microwave and oven safe?

The silicone dinnerware set as the baby's first food set can be used normally at a temperature of -40°C~200°C, and all baby feeding utensils can be used normally in the oven and microwave oven.
What is the lead time?

The delivery time of our silicone feeding products depends on the quantity of the product, samples of weaning set: 1-3 days, small amount of feeding set: 15-20 days, large amount of silicone children dinner set: 20-25 days.
Is it all right to make customers' own brand name?

Sure. Our silicone children tableware not only support custom color, size, design and packaging, but also support print brand Logo on the silicone weaning kit. OEM and ODM are welcome.
Is it available for infant feeding utensils samples?

We provide free samples of the feeding kit, and the samples of weaning products in the feeding kit will be delivered to customers within 1-3 days.
Is there a middle man draining your profit?

Absolutely not. We are the source manufacturer of silicone weaning cutlery. We independently develop and produce silicone tableware and silicone weaning products. All feeding accessories are sold directly from the factory. You can not only enjoy the complete feeding set at the factory price, but also a super low MOQ feeding utensils.
What can I purchase from you?

In the first feeding set, we have children plates set, children bowls set, infant spoons and bowls, infant bowls and spoons and suction cup plates and bowls etc. In addition, there are other silicone products, such as household silicone products, outdoor sports silicone water bottles, etc.
What is the MOQ of weaning tableware?

Our infant feeding set basically has a minimum order quantity of 100, which is much lower than others. Some single-piece infant utensils even have a minimum order quantity of 20.
Do you have your own factory ?

Yes. All of our weaning utensils are independently developed and produced. We have 5 factories in Shenzhen, China that produce silicone newborn feeding set. We develop new self feeding cutlery every month to meet the needs of our customers.
Can I visit your factory before order?

Very welcome. If it is not convenient to come in person, we support online video calls for your visit.